Fortnitemares has officially began in Fortnite. We have new questlines and heroes in Save The World, a new boss and challenges in Battle Royale and a fun little quest to do in Creative in order to unlock a new wrap. Epic hasn't really done stuff like this before, but it's certainly creative. Each day, starting October 21, 2020, we will get new codes in featured islands. Our goal is to find the code in every match and redeem it online.
Here's a look at the wrap. The mummified design is pretty cool and makes it feel like a gun wrapped up in bandages. It's pretty neat and is intended to go along with the Wrath outfit from last year's Fortnitemares event, who, coincidentally, also had challenges to do in Creative mode.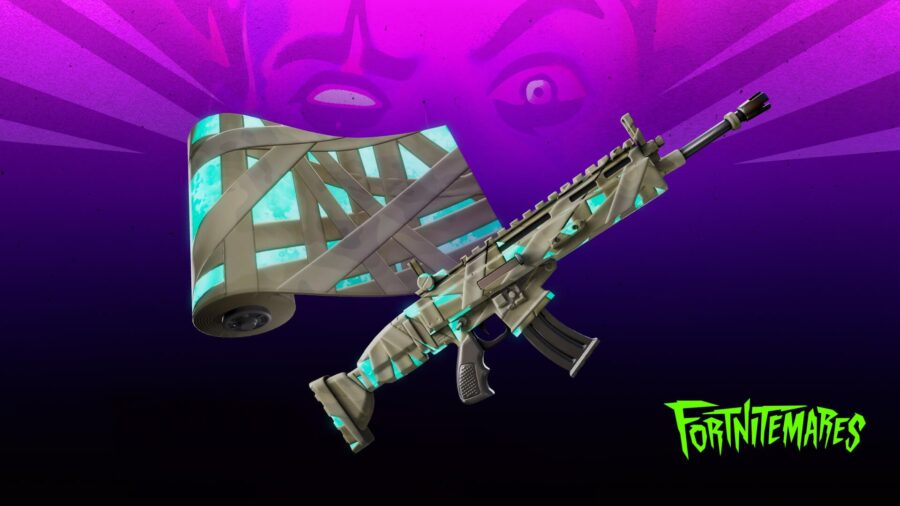 The Codes
We'll be compiling the codes for each map, so in case you don't want to go through the effort of playing Creative mode, or you just aren't available to play right now, we got you covered.
AU9NJ
BLVHV
TCLJS
But if you DO want to actually play to get the code, I created a little list of all the islands/maps featured, along with video tutorials made by yours truly.
1. What Lay Beneath (6230-0678-1860)
What Lay Beneath is a narrative-driven horror story. There are a few mild jumpscares, so be cautious. The code can be found in the beginning, deep inside the hospital.
2. Haunted House Deathrun (9069-5430-8742)
This island is basically a spooky deathrun. While there's a unique level or two here, there's nothing that really sets it apart from other deathruns, other than their death screens, which depict spooky creatures. Y'anyways, the code can be found around the third level. And yes, I suck at deathruns, so this took me a few tries to do.
3. Gun Game – Crazy Carnevil (5763-3850-2682)
Crazy Carnevil (Yes, that's its intended name, not a spelling) is different compared to the other islands because it's a Gun Game, which means you can play it with friends. Anyways, the way to find the code is a little weirder. There are many floating islands here, but the one you should go to is the one with a horizontal sign and a No Dancing street sign. Bust a move and you'll get the next code, as it'll pop up on-screen.
The fourth code isn't here yet but will be soon enough!