Chapter 2, Season 4 of Fortnite: Battle Royale has introduced a new type of challenges in the form of Awakening Challenges. These challenges come a few levels after a new outfit and usually revolve around that superhero. They have 2-3 little challenges involving that character (Visit X as Y, eliminate Z as Y, etc.) and the big reward from that is a new built-in emote to perform on the battlefield. Today's guide is all about Iron Man Awakening.
Stage 1: Reach 88 Speed On The Speedometer In A Whiplash As Tony Stark
The Whiplash is one of the many cars in Fortnite: Battle Royale, and you can easily find it. It's a sleek, fairly flat vehicle that is extremely fast. Thankfully, you can find a few parked inside Stark Industries, and whilst you drift throughout the roads, keep an eye out for the number on the bottom-right side of the screen. The number there will show how fast you're going. Make sure you make it to 88 speed for a second or two in the Whiplash whilst playing as Tony Stark.
Stage 2: Use An Upgrade Bench As Tony Stark
The Upgrade Bench is a small device that can upgrade the rarity of an item for materials. What you want to do is visit one of these spots and upgrade an item whilst wearing the Tony Stark outfit. Credit to Fortnite.gg for the map below.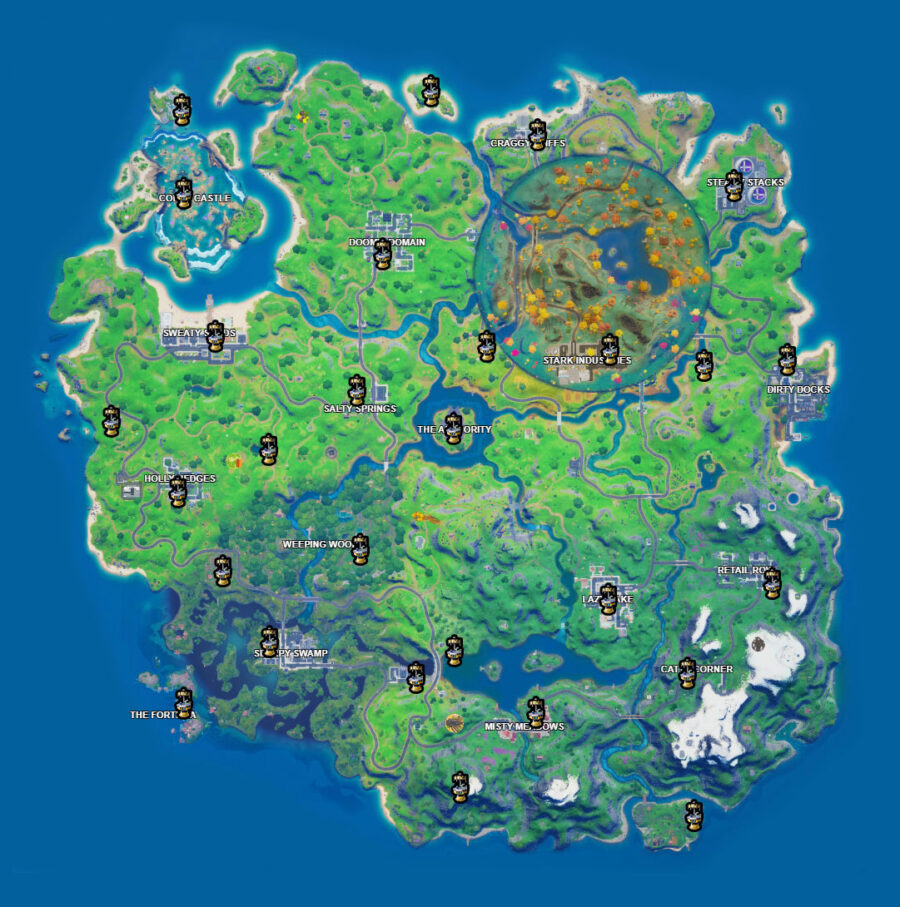 Stage 3: Emote As Tony Stark In The Tony Stark Workshop
Tony Stark's workshop can be found deep inside Stark Industries, and you'll recognize it as the hall of armor from the various Iron Man movies. Emote as Tony Stark there and you'll turn into Iron Man.