Epic Games and Apple have been decent with each other throughout the game's lifetime. While the game was always on Apple's Mac computer, Battle Royale wasn't on any Apple phone until March 2018, and was later supported on Android devices that August. But recently, Epic Games has introduced a permanent discount on V-Bucks on all platforms. Many people, including Reddit, think that this was because of the popularity of the new party game Fall Guys, or as I like to call it, Gang Beasts: Battle Royale. Anyway, this discount also made purchasing V-Bucks cheaper by buying it directly from the Fortnite app on mobile devices than via Apple or Google Play. Of course, this angered Apple, and in response, they removed Fortnite from the App Store. It was then removed from the Google Play store shortly after on Android devices. In protest, Epic took legal action, creating a whole legal feud between Epic, Apple and now, Google. In this guide, we go over what exactly happened and how this is will affect the game.
The Calm Before The Storm
Starting on August 13, players were granted the Shooting Starstaff harvesting tool for free (And it's still available until August 17) to celebrate the 20% discount on V-Bucks. Anyone who spent V-Bucks in the past 30 days were given a whole lot more, and the community was just cheering. But why? The economy in the game was simple. 1 cent = 1 V-Buck. $10 were needed for 1000 V-Bucks, and so on and so forth. This also made buying V-Bucks on mobile much easier, because before, to get V-Bucks, you needed to buy them from the App Store/Google Play store. Now, you can just buy them directly from Fortnite. Everyone was enjoying this, until Apple realized what Epic did.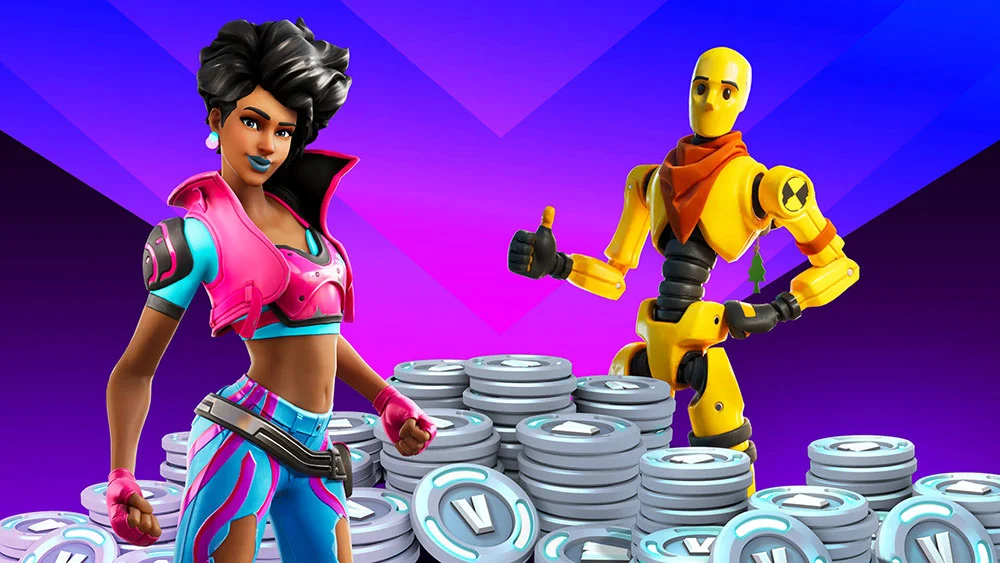 Legal Action
Apple was pretty pissed about Epic's new change with it's microtransactions, so, in response, they blocked Fortnite from all of their devices. Or, at least their mobile ones. I don't know if it's blocked on the Mac computer. There are a ton of loopholes to this situation though. If you already installed the game on your mobile device, you will be able to play it, but you will not be able to play in the next season. So future cosmetics and future seasons will be unplayable. Of course, Epic was mad, filing legal action against Apple's "monopoly".
Along with the legal action, Epic also premiered a very short animation in Party Royale, referencing and mocking Apple's 1984 Macintosh computer commercial. The animation is available to watch on YouTube. It closely replicates the iconic commercial, having the original Chapter 1 recruit outfits watching, helplessly, an Apple-themed outfit on screen. The Brite Bomber outfit then comes in and destroys the screen, just like in the OG commercial, and it ends pleading social media to be on Epic's side and spread the hashtag "#FreeFortnite". (Also, don't read the YouTube comments there.) Apple had this to say to the news site The Verge:
Today, Epic Games took the unfortunate step of violating the App Store guidelines that are applied equally to every developer and designed to keep the store safe for our users. As a result their Fortnite app has been removed from the store. Epic enabled a feature in its app which was not reviewed or approved by Apple, and they did so with the express intent of violating the App Store guidelines regarding in-app payments that apply to every developer who sells digital goods or services.
Epic was also very well aware about the rules, and broke them intentionally, having a short animation ready for release as soon as the troubles occurred. (I mean, Pixar has competition if they made that entire short within a few hours)
Overall, we have no idea where this issue will go to next. Reverting will be troublesome, as the hundreds of V-Bucks spent recently will have to be removed, along with anything they bought with the V-Bucks. Gifting the new harvesting tool as well only for the very reason that it was gifted to become irrelevant will scratch some heads, and Apple/Google will have to keep extra tabs on Epic if they revert back to the old monetization system. Logically, reverting would be a terrible idea due to the damage that might be done and backlash the game studio would receive. But if they continued like this, they will lose a little chunk of their fanbase, because a LOT of people play on mobile devices. I'm not sure what to think, but it's certainly bold of Epic to go against a juggernaut like Apple! What do you think? Leave your thoughts in the comments below.