Diplo is hosting another concert in Party Royale, this time dubbed "Higher Ground"! Diplo has done many concerts throughout the summer in Party Royale for our entertainment, and they have all been pretty popular, which is why he's doing it again! The concert will take place this Friday, specifically on July 31 at 2pm ET, which is coincidentally when the Galaxy Scout releases, however, if you are busy on the 31st, there will be a rebroadcast on Monday, August 3 at around 9pm ET, which is two hours after the Item Shop changes. The show's gonna be 30 minutes long, so invite some friends, bring your family and prepare some snacks! If you don't like Diplo, however, there will be a new cosmetic item you can unlock from this event, so stay tuned!
Where To See It
First, after logging in, you head to Battle Royale and on the modes list, you wanna click Party Royale, Fortnite's latest gamemode about having fun, relaxing with friends and having the time of your life. There are three main POIs on Papaya, the Party Royale island: The Plaza, a gallery of restaurants and other attractions, The Main Stage, a place where music and live concerts are held, and The Big Screen, a location used for the TENET trailer event and the We The People showings. Just plop right over to The Main Stage on the right side of the island and sit down.
Exclusive Cosmetic
During this showing, you will get a exclusive cosmetic! Many people are confused if you need to join the event or not, but no, you won't need to see the event to get the cosmetic. Just log in anytime between this Thursday (July 30) until this Sunday (August 1). Let's take a look at this cosmetic.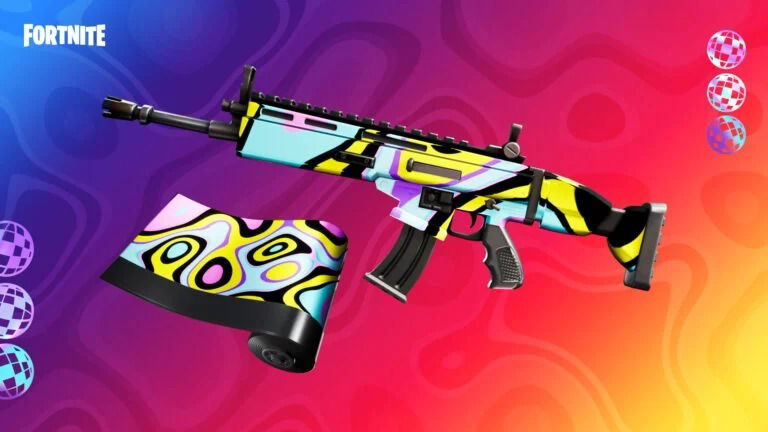 This wrap fits the theme of the Nightlife and unreleased party outfits, which, along with the leaked Envision outfit and set, will release when the event goes live.
The Event
In case you missed it, here's the entire Diplo Higher Ground concert, courtesy of YouTube channel wolker4.
That's all the information we have so far about the event. If you have any questions, hit us up below.