DICE is ending Star Wars Battlefront II's support, and while there may not be more content, the team at EA and DICE have released a new appearance for Rey, however the way it can be unlocked is very bizarre. You must do a series of side quests and little missions, each connected by each other in order to unlock this special cosmetic item. They're nothing too bad, but this guide is important to refer to when doing this task. So, enough chit-chat. Let's get into it.
What To Do And Where To Go
First, you want to go into Co-op on Takodana. Planets are randomly picked, but the best you could do it is to go into a Resistance/First Order playlist, because Takodana is from, well, the Sequel Trilogy. Your character doesn't matter, but it's best if it's a soldier, class doesn't matter. Once you're in Takodana, head to Maz's castle, where you'll find some graffiti. The graffiti is written in Aurebesh, the official language in Star Wars, which means you'll have to pull out Google Translate. But don't worry, it reads, "The Pirate is Hiding Something".
If you're here a lot, you might know about the portrait of the infamous pirate Hondo Ohnaka by the second floor. Go to the portrait and shoot the portrait and you'll be gifted a token.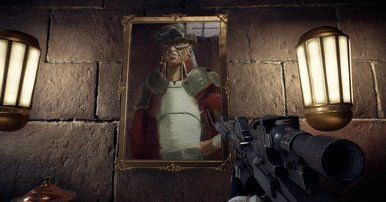 Grab it and run over to the camp with the Slave I spaceship. Close by, you'll find 3 interactive buttons. The order you need to press them in is, "Left, Right, Center". A coin sound effect plays.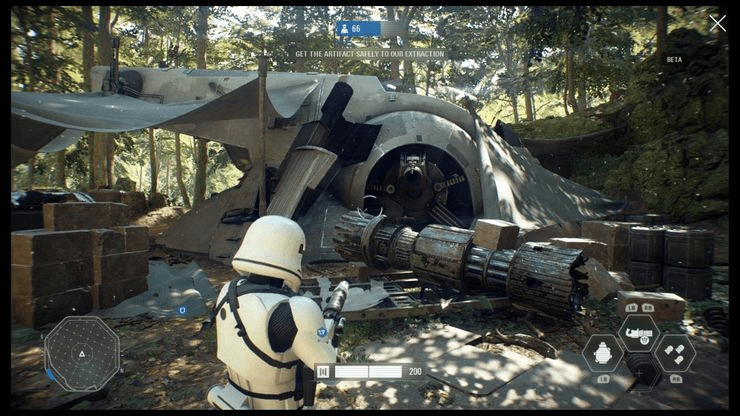 The lights above the tents would then turn on, blinking 5 times on the left, none in the middle and once on the right. The code is "501st", which might ring a bell if you're a die-hard Star Wars fan. That's a reference to the 501st Legion.
Run back to the entrance to Maz's castle, where the galactic flags shine. The 501st flag has the Stormtrooper on it, so it's relatively easy to see.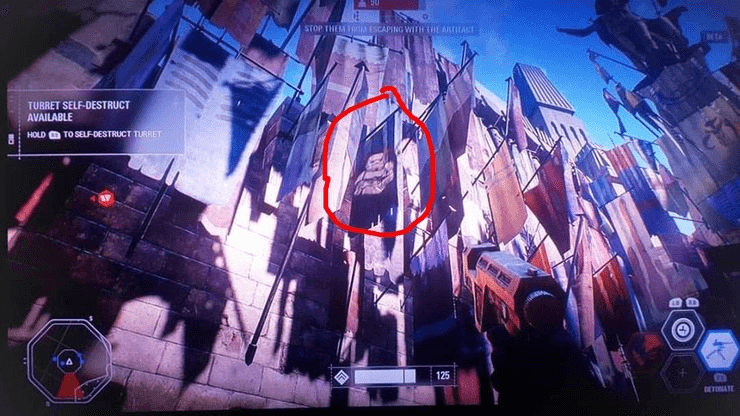 Stand on that exact flagpole and turn around to the castle walls, where you'll be greeted by a button. Push the button and jump off the flagpole.
Finally, run downstairs to the basement where Rey found Luke's lightsaber in 2015's The Force Awakens, and the door will be opened thanks to your troubles. You will then proceed to unlock the appearance, but don't leave just yet! Play out the rest of the mission instead of ditching your fellow Resistance/First Order mates.
Appearance
After completing the mission, you'll return to the lobby and you'll have the Resilient appearance for Rey! The appearance is one of her 3 appearances inspired by 2019's The Rise of Skywalker, this time with a casual yet comfortable hood on, based on her return to Ach-To in the movie.